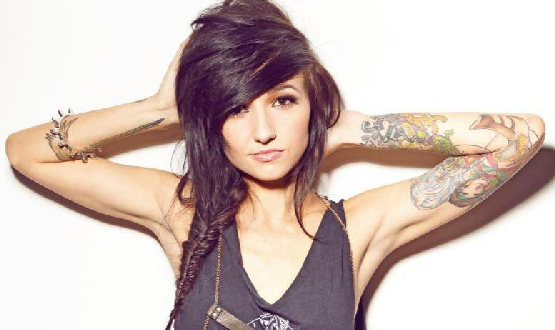 When Canadian synth-pop artist Lights released her acoustic reworking of her debut 'The Listening' back in 2010, the understated, acclaimed 'Lights. Acoustic' EP, it was a precious glimpse into the raw, unfiltered artistry and emotion evident in Lights' songwriting abilities. Stripped down and self-recorded, the album was a favorite among long-time fans of the artist eager to hear the singer's crystalline vocals a la mode.
On Tuesday April 30th, Lights is returning with a fistful of raw music to tide fans over until the third album. The 'Siberia Acoustic' EP will see the artist return to her singer-songwriter roots with stripped acoustic renditions of her originally glistening, electronic 'Siberia' tracks.
The EP eases into itself with a bluesy, head-bobbing rendition of 'Siberia' single "Banner." Stripped of its original swelling electronics, the anthem is transformed into a sweetly upbeat, lo-fi front-porch jam. Next is "Cactus In The Valley" which – originally first heard on Lights' 2010 acoustic tour – began as a melancholy country-twanged guitar track before its synthy resurrection on her sophomore album. This time around, though, the song is a crisp piano-driven ballad assisted by Owl City front-man Adam Young.
"Where The Fence Is Low" is a swelling guitar-pop hymn here, with shimmery strings that help drive along the singer's sugary vocals. And the piano-assisted version of title track "Siberia" is just as infectious as the original, this time with layered harmonies and a feature by Max Kerman that lend a romantic overtone.
One of the more electronic tracks off 'Siberia,' "Suspension" is a totally new track in acoustic form. Stripped of its cosmic synths and throbbing electronics, the track is raw and weighty. You can hear the artist's fingers as they slip nimbly from guitar string to string, adding an earthy vibe to the song. "Toes" is another track mightily changed from its original twinkling pop version. A raw and edgy rock ballad, this acoustic version is a little more melancholy and moody than from the album, creating an entirely new listening experience for the former single.
Next is "Peace Sign," which has been been given an airy, whimsical makeover alongside shimmery guitar chords, sweeping strings, and flowery verses sung in French compliments of French-Canadian artist Coeur de Pirate. Somewhat similar to its album counterpart, "Heavy Rope" is slow, choral, and sad, weighted by heavily emotional lyrics and stirring vocals.
Drastically turned down from its album version is "Flux and Flow." And where it lacks the massive chorus and frenetic atmospherics of the original, the underlying melody is more audible than ever, with Lights emoting subtly above the guitar chords. Rounding out the acoustic EP spectacularly, "…And Counting" is a sweeping piano-driven love ballad that celebrates Lights' understated production and melody-crafting abilities, a subdued testament to her craft.
Whether you prefer your Lights acoustic or electronic, downplayed or dramatic, 'Siberia Acoustic' is a welcome return to the raw emotional power and vocal prowess that fuels Lights' music. For more information on the EP release, visit Lights on Facebook here.