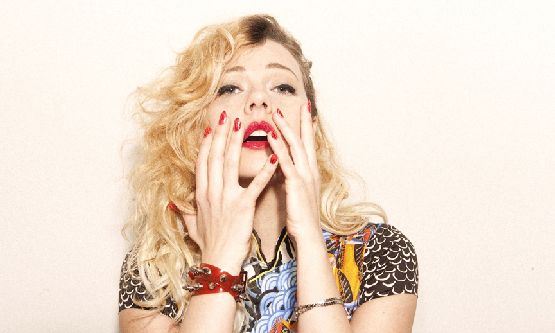 Electronic artist MNDR – Amanda Warner – creates thought-provoking, emotional electro and indie-dance music that you can shake and ponder to. Her shiny new album, 'Feed Me Diamonds,' dropped last month, but that doesn't mean Amanda has slowed down.
I was able to jump on call with her for a little chat recently. Check out what Amanda had to say about working on her debut, touring with Duran Duran, and her thoughts on social media, below!
What was the process like for you and your partner Peter Wade while working on 'Feed Me Diamonds?'
We began working together about three years ago and I kind of came along with a writing history with a publishing company, and we just enjoyed working together. I was writing pop music for other artists with other producers and also producing for myself. He kind of encouraged me to collaborate, and from there it just kind of happened. Then I did the Mark Ronson song…
Doing this album was a big transition from living on the West Coast and moving to the East Coast. There was a lot of personal turmoil, and a lot of excitement and unexpected career moves. It was really an emotional rollercoaster. I was touring so much with Mark Ronson's band, The Business International. We were touring heavy for three years so I really had to write it on the road and when I was at home at home with Peter. We definitely wrote and produced when time would permit.
What inspired and influenced the lyrics and sounds on the album?
The sound was really hard. Prior to doing MNDR I was doing music directing and I was hired as bass player for touring bands, and this and that, and it was more behind the scenes. Then I realized I maybe had a shot at doing something as a solo artist. We were adamant to create our own sound palette and our own world 'cause that's what I love about the artists I love. It was very conscious early on big. I'm a big fan of Vince Clarke and early industrial music and Chicago house music and techno. Also love The Kinks and classic songwriting. We wanted an industrial type sound palette. Lyrically, the lyrics are really honest and from the heart, but without the irony.
I can definitely hear that. I know your track "#1 In Heaven" references Patty Hearst, which is so interesting because it's very refreshing to hear music – specifically electronic and pop music – actually talking about something that can provoke thought.
The thing I miss in pop music when I think about the songs I really love is that they can be more than one thing. More than just, "Hey, we're in the club and we're wasted!" I love music that is the soundtrack to your moment. I wanted to make songs that I could connect to, even in a pop way.
You make music you can dance to, but there's always something you can chew on, and really sink your teeth into it. As your influences, I know you've mentioned Erasure and Depeche Mode. You recently toured with the legendary Duran Duran. What was that like for you?
The thing that I was most taken aback with was how they're very conscious about being relevant and working hard on music, not just phoning it in for a paycheck. You talk to any bands you're friends with and they're not talking about their branding capabilities. It was honestly like talking to a band of 20 year old boys, excited about writing songs, drinking Heinekens. They're really lovely people to hang out with and they go record shopping in every town. They're rad. The show was two hours of my favorite songs. It was staggering for me!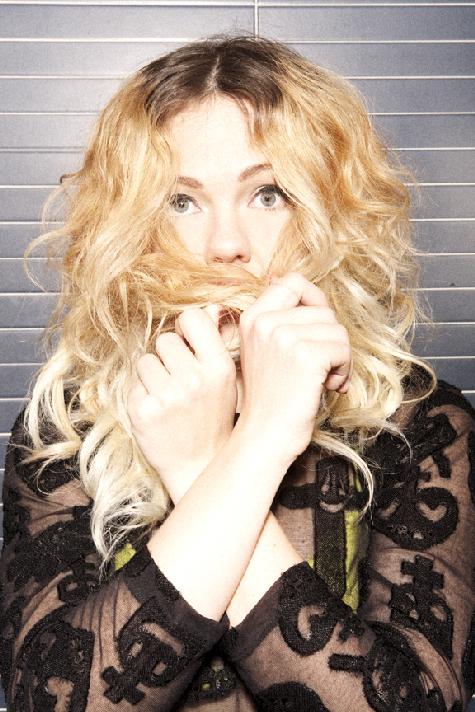 You recently posted on Facebook your distaste for artists and labels who purchase their social network fans and followers and likes. What's your philosophy on building a fan base?
I feel very strongly about this. It's not my platform to preach or wag my finger, but it's about connecting with people through songs. That's what I'm looking to do with this project. A lot of the time, you get pressure to get your social media to reach a certain level. Opportunities come and go, but you can't base a career out of it.
I read it in The New York Times and I thought it was important to post about because you can easily, for $5, buy thousands of Facebook likes or Twitter followers. You're never getting that real fan base that way. My NY fan base, these people will die for this project. They're amazing! On Facebook and Twitter, when I'm talking about something, you can see what the actual reach is. There's also that when you release an album, not every one of going to love it, but those people you have in that honest fan base can grow with you and spread word of mouth make it really worth it.
You're throwing a massive album launch party in Manhattan on August 30th, tomorrow, for 'Feed Me Diamonds!' What's that going to be like and can fans attend?
I'm so excited! We always promised each other that once this album came out we'd throw the biggest party we could put on and celebrate with everyone who has believed in this project and worked on this project. We wanted to throw a huge party with tons of talent and party until the bars closed! I'm so excited about the talent. It's insane.
First of all, Psychobuildings is one of my favorite bands in NYC. I'm tossing in another surprise guest, a pop artist who's been a supporter of mine. Har Mar Superstar, we have a long history. We've known each other since we were teenagers. And Raven from Ru Paul's Drag Race has been performing MNDR songs in her show which is the ultimate compliment. I brought her out and she's going to be performing and I'm going to die. I can't believe it!
Your amazing oversized glasses have become an icon for you and your music. But I think further, this icon, this stylistic thing that used to be considered unattractive or geeky, is now very cool. And you have all these artists who are embracing their nerdy side, making untraditional music and talking about things that others might not be acknowledging. Do you think that the nerds have become the cool kids now?
It feels like the way people connect now is so different. Everyone can find their community! There's a larger voice for people, girls or boys, who are into non-traditional things. For me, it was being into everything music – buying every record I could buy! It was really nerdy, and that's what I was interested in. I think it's cool to be different, but I don't know if it means the same thing as it did 25 years ago. I think the idea of "being cool" has changed. It's amazing.
Thank you to the lovely Amanda, aka MNDR, her management, and Samara at Press Here for arranging the interview. You can pick up 'Feed Me Diamonds' out now on iTunes! Visit MNDR on Facebook here.